Viega solutions for the potable water supply
Highest quality for water.
Highest quality for water
Challenges in industrial applications
 There is one word in production that is feared beyond all others: standstill. This is also the case when it comes to the potable water supply. This is because stagnant water can lead to serious health hazards for the workforce. In the worst case scenario, it can even heat up of its own accord inside the piping system. Possible consequences include bacterial or legionella contamination. For partners working in industrial applications, Viega offers customised solutions for a constantly flawless supply of potable water.
Your partner for industrial applications
As a global market leader in the installation industry, we see it as our duty to respond to the questions of tomorrow by developing innovative solutions. As we do this, we also benefit from the experience of over 120 years of company success. We're creating a partnership on an equal footing and together with you we are installing the lifelines for the industry buildings of tomorrow.
The regulatory requirements are clear – as soon as a company begins to operate a potable water system with access to the draw-off points, as the operator, it is also responsible for maintaining the quality of the potable water. This is the case regardless of the building's purpose. And this can also come with unexpected challenges. In unused areas of large office buildings, maintaining potable water quality can quickly become an issue, for example during company holidays or because of completely unplanned interruptions such as the lockdown due to Covid 19 in spring 2020.

Viega advantages

Focus on industrial customers

Globally accessible resources

Partnership on an equal footing

120 years of solutions expertise

Viega press systems: up to 80% faster        

Superior technology pro time savings and anti production downtimes


In industrial systems engineering, safe, fast and easy-to-use processes are favourable to ensure that production can be ramped up as quickly as possible. However, many pipelines are still installed using conventional connecting techniques, such as welding. And this is still the case despite the fact that cold-press technology from Viega offers numerous advantages – it is cleaner, more efficient and safer in every respect. It also minimises the challenges posed by shortages of skilled workers and production downtimes.
Solutions for potable water in industrial applications
Clean potable water: essential in almost all production processes
The industrial use of potable water is always subject to particularly strict conditions. For example, only hygienically safe and clean potable water can be used to clean production equipment in the food industry.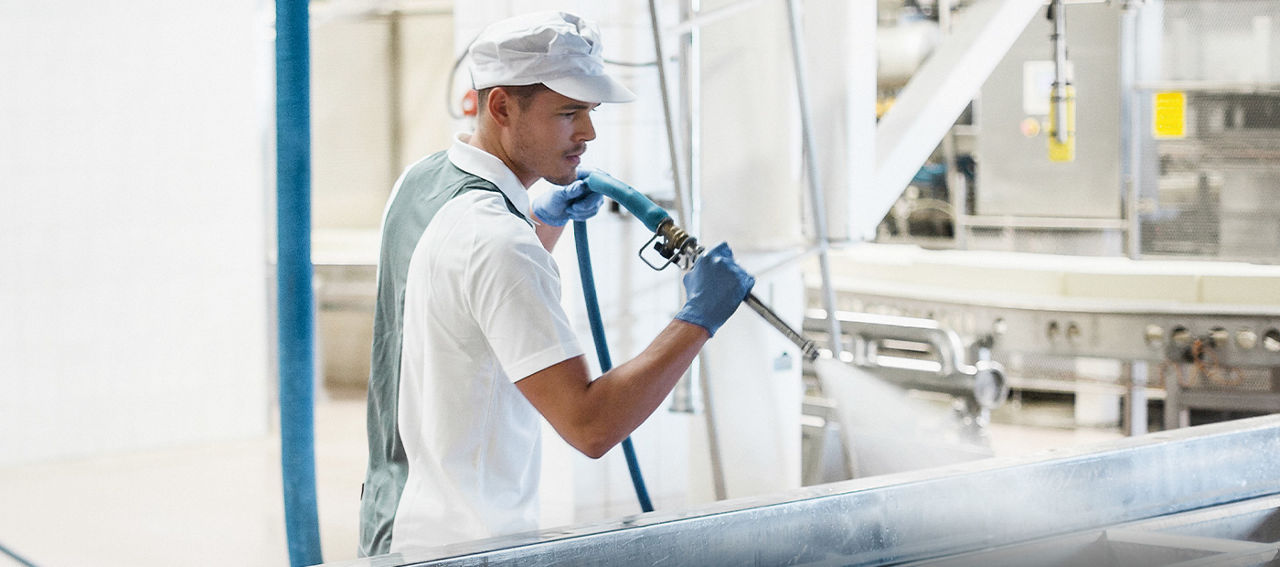 Hygiene is essential for all processes linked to production
When employees or production equipment come into contact with potable water, there is always one essential condition: the water must be completely hygienically safe and clean. This is the case in food industry applications, for example. Routine cleaning of production facilities, production equipment and appliances can only be carried out using potable water that is also suitable for human consumption. At the same time, the piping systems themselves also need to be hygienic and easy to clean.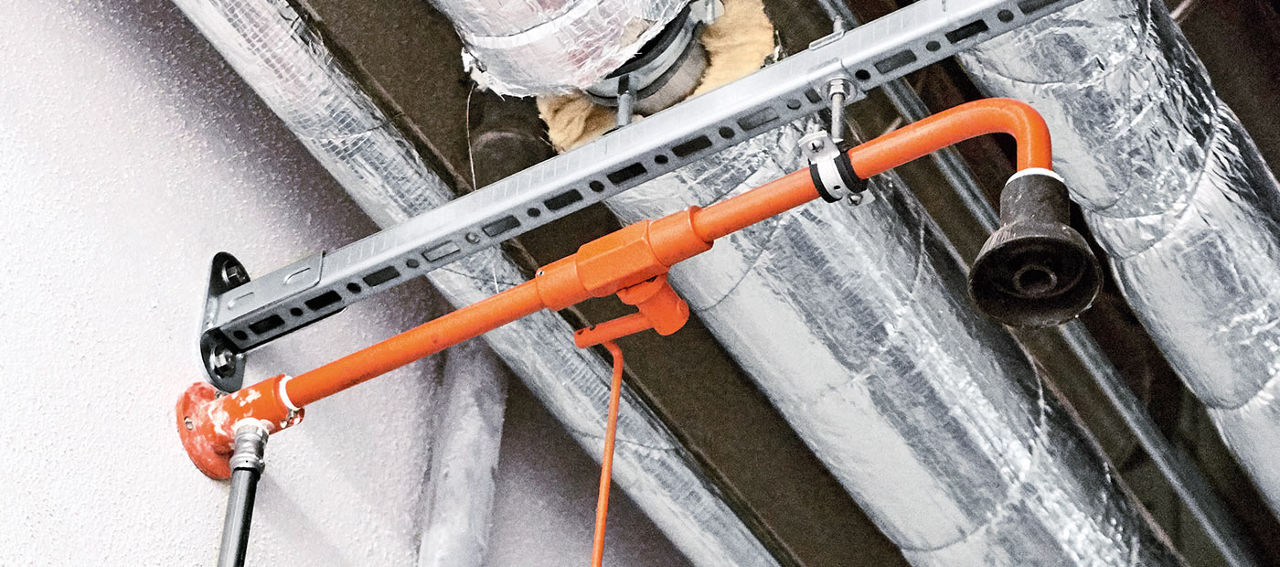 In case of emergency: potable water for first aid equipment
Viega piping systems also meet the necessary requirements for the connection of first aid equipment, such as emergency body, face and eye showers in the chemical and pharmaceutical industries.
Stainless steel: the first choice of materials 
The Viega stainless steel piping system Sanpress Inox was developed precisely for this purpose, and has already proven its worth in a large number of industrial applications. Thomas Richter, plant technician at meat product manufacturer Metten, explains why they installed the Sanpress Inox: "The material is extremely robust, durable over time, very easy to clean, and it looks neat, too."
Sanpress Inox – hygiene in all conditions
withstands aggressive and abrasive liquids
is DVGW-certified, 
even when disinfection pursuant to the Potable Water Ordinance (TrinkwV) Section 11 is to be carried out
in sizes from 15 to 108 mm. 
able to transport special media
two alternative tube materials for selecting;
- Material No. 1.4401 (X5CrNiMo 17-12-2)
- Material No. 1.4521 (X2CrMoTi 18-2)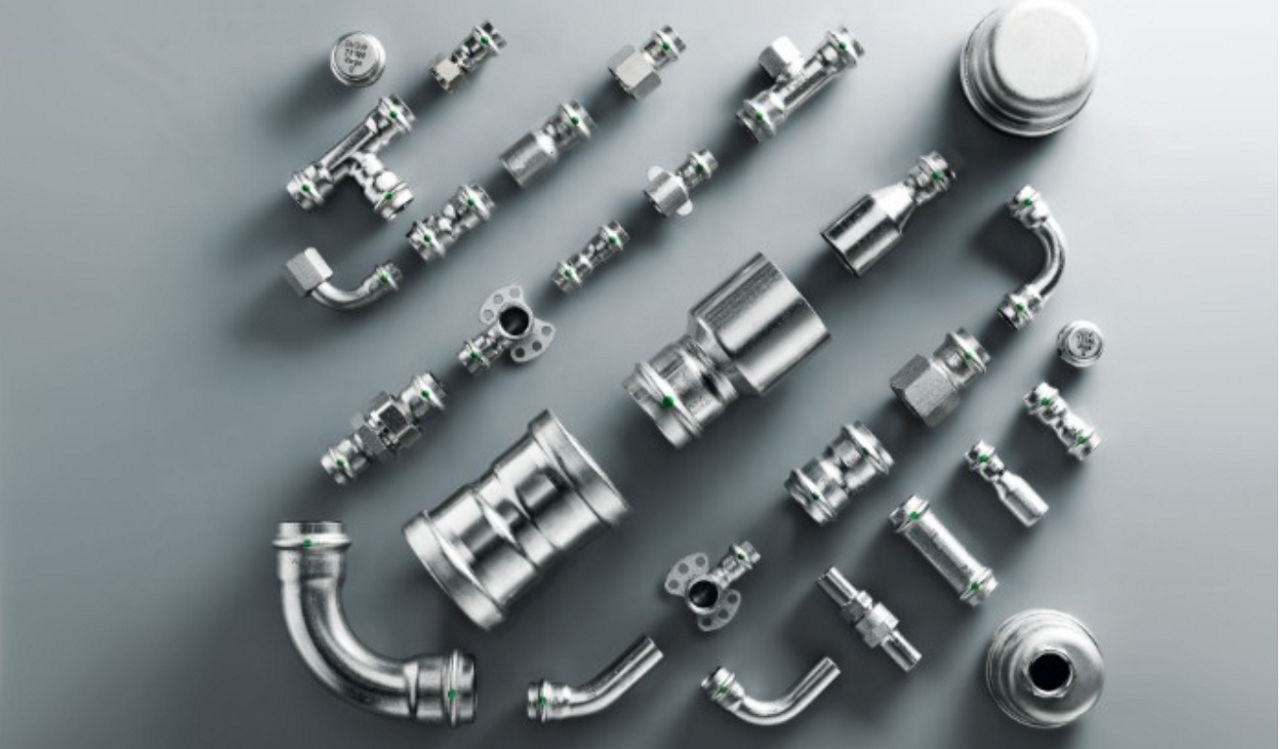 Solutions for the potable water supply
The right materials to maintain potable water quality
When operating potable water installations, it is absolutely essential to pay close attention to hygiene maintenance. Selecting the right materials is just as important. The properties of the Viega press systems Sanpress Inox, Sanpress and Profipress make them perfect for hygienic potable water installations.
Checking potable water hygiene made easy
Being able to take water samples under conditions comparable to those in a laboratory is just one of the strong points of Easytop extraction valves. As well as a one-part extraction valve, a two-part version is also available. The two-part system is made up of a stainless steel extraction valve and a removable gunmetal actuation unit, and is particularly economical as the actuation unit can be used at a large number of draw-off points.

The removable actuation unit also effectively protects the system from unauthorised water extraction and manipulation, and can be cleaned easily – for example, in an autoclave. 
The valve base body and outlet pipe can be rotated 360°, and the actuation unit can be mounted in 45° steps. This allows it to be aligned vertically for sampling. 
The extraction valve can be chemically or thermally disinfected.
The Viega universal flush valve and Viega flushing station combat stagnation
To maintain potable water quality in areas with foreseeable usage interruptions, it is advisable to install suitable components that ensure regular water exchange.
The Viega universal flush valve and the Viega flushing station with the Viega Hygiene+ function prevent germs caused by stagnation in pipelines thanks to regular water exchange.
List of media

Viega press connection technology with the diverse systems and areas of use has proven its value in various installations over many years of application.
Viega industrial brochure

The requirements for media-carrying piping systems in industry have increased continuously over the course of time. You can find all requirements and applications at a glance in our brochure.