Viega solutions for process water
For clean production flows every second of the day.
For clean processes and high quality process water
Challenges in industrial applications
A wide variety of water qualities are used in industrial applications, from softened, partially or fully desalinated, or post-treated water to water that has been treated for use in chemical or other processes. Viega piping and press connector systems always provide the ideal solution for the safe transport and reliable distribution of different process waters – regardless of their previous processing.
Your partner for industrial applications
As a global market leader in the installation industry, we see it as our duty to respond to the questions of tomorrow by developing innovative solutions. As we do this, we also benefit from the experience of over 120 years of company success. We're creating a partnership on an equal footing and together with you we are installing the lifelines for the industry buildings of tomorrow.
Viega advantages

Focus on industrial customers

Globally accessible resources

Partnership on an equal footing

120 years of solutions expertise

Viega press systems: up to 80% faster        

Superior technology pro time savings and anti production downtimes


In industrial systems engineering, safe, fast and easy-to-use processes are favourable to ensure that production can be ramped up as quickly as possible. However, many pipelines are still installed using conventional connecting techniques, such as welding. And this is still the case despite the fact that cold-press technology from Viega offers numerous advantages – it is cleaner, more efficient and safer in every respect. It also minimises the challenges posed by shortages of skilled workers and production downtimes.
Solutions for process water
Indispensable: process water with specific properties
Viega piping systems have proven themselves in this area thanks to exemplary hygiene and a great diversity of systems.  No matter which different process water they are transporting.
Process water: the raw material for a wide range of applications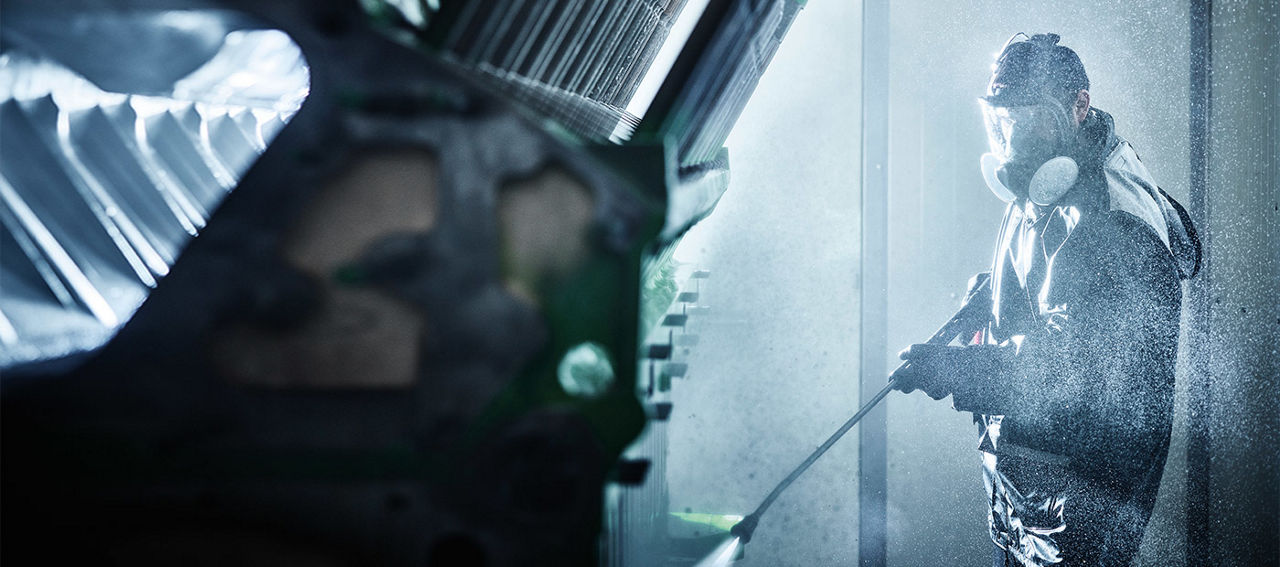 Process water is used in extremely varied applications. It is used as cooling/recooling water in open and closed circuits, as boiler feed water, solvent, a reaction medium, cleaning and cooling lubricant, or as cooling water for mechanical surface treatment. Process water is also used as a production medium, for example in paper production or in chemical analysis. All of these applications share one thing in common – the water has to meet high quality standards and deliver specific properties.
Specific water properties are essential for clean processes
Wherever and however process water is used, it must be free of any substances that may cause damage to systems and products. Therefore, suitable treatment methods are selected to achieve the required process water quality depending on the untreated water that is available. Treating this water involves processes that remove certain components from the water (e.g. purification, sterilisation, softening, desalination) and subsequent adjustment of parameters such as the pH level, electrical conductivity and corrosion properties.
The right material is essential for workpieces and process water
This means that, while completely reliable and hygienic supply lines are essential, so too are the right materials across the entire pipeline network. Whether water is used to assist machines in their work or process waters are used as a basis for coolants and lubricants, these waters must always be free of undesirable components or impurities. 
Learn more about our products
List of media

Viega press connection technology with the diverse systems and areas of use has proven its value in various installations over many years of application.
Viega industrial brochure

The requirements for media-carrying piping systems in industry have increased continuously over the course of time. You can find all requirements and applications at a glance in our brochure.