Viega cold-press technology: quick, clean, safe and completely weld-free    
In industrial systems engineering, safe, fast and easy-to-use processes are favourable to ensure that production can be ramped up as quickly as possible. However, many pipelines are still installed using conventional connecting techniques, such as welding. And this is still the case despite the fact that cold-press technology from Viega offers numerous advantages – it is cleaner, more efficient and safer in every respect. It also minimises the challenges posed by shortages of skilled workers and production downtimes.
The advantages at a glance
Quick working processes
Pressing pipes together instead of welding or soldering them saves a huge amount of time. With piping and coldpress technology assembly is up to 80% faster depending on dimensions.                                                                                     
A simple way to expand existing systems
When it comes to the expansion and maintenance of piping systems in production in particular, every minute counts. This is where Viega cold-press technology really comes into its own across the board. Downtime costs are reduced by not having to work with an open flame and therefore not having to protect the working environment from this hazard. Not only does this eliminate the time-consuming preparation and follow-up of the installation (fire watch), but cold-press technology even allows work to be carried out during ongoing production, as there is no risk of fire or dirt entering the system.
Unparalleled safety
With the SC-Contur, a dedicated leakpath, Viega provides unparalleled safety levels for all press systems and ensures visible test reliability in industrial construction and systems engineering. The Viega SC-Contur guarantees that inadvertently unpressed connection points can be identified during the central leakage test
Uncompromising connection quality

Viega cold-press technology is safer, quicker and more efficient than conventional processing methods. Even oversized pipe dimensions can be pressed in seconds, creating a force-fit connection ready for immediate loading. There's no need for reworking and corrections with cold-press technology.
Minimal effort required from skilled workers

Welding has to be carried out by qualified professionals. As there a few welders out there on the labour market, these jobs cannot always be completed. And because of heavy workloads, qualified in-house employees already have too much to take care of. However, as a quick-to-learn and easy-to-use method for connecting pipelines, Viega press connecting technology can also take care of this issue. At the same time, the press technology eliminates time-consuming and costly weld seam X-rays, which are required for certain media and applications such as those in the chemical and pharmaceutical sectors
Reduced stoppages to production
Nothing is more costly than production at a standstill. Viega cold-press technology prevent these losses in efficiency and productivity thanks to particularly fast and clean assembly processes. The result is a safe connection with guaranteed tightness that can be fully loaded at once. Cooling times and fire watches are now completely unnecessary.
Pressing instead of welding
Viega cold-press technology: quick, clean, safe and completely weld-free    
Replacing welding with cold-press from Viega provides huge advantages for the flow and planning of operational processes. Cold-press technology saves a lot of installation time and does not require trained welders.
Up to 80% assembly time savings in the production of pipe connections.
Superior technology. Pro time savings – anti production downtimes.  
1. Easy to use
Welding and soldering require specially trained professionals. Viega press tech - nology, on the other hand, connects pipelines in seconds at the push of a button. And the best part is that press - ing is simple, quick and safe. Welding professionals are no longer required in the case of press technology, which means that new installations, expansions and re - pairs can be carried out simply and easily.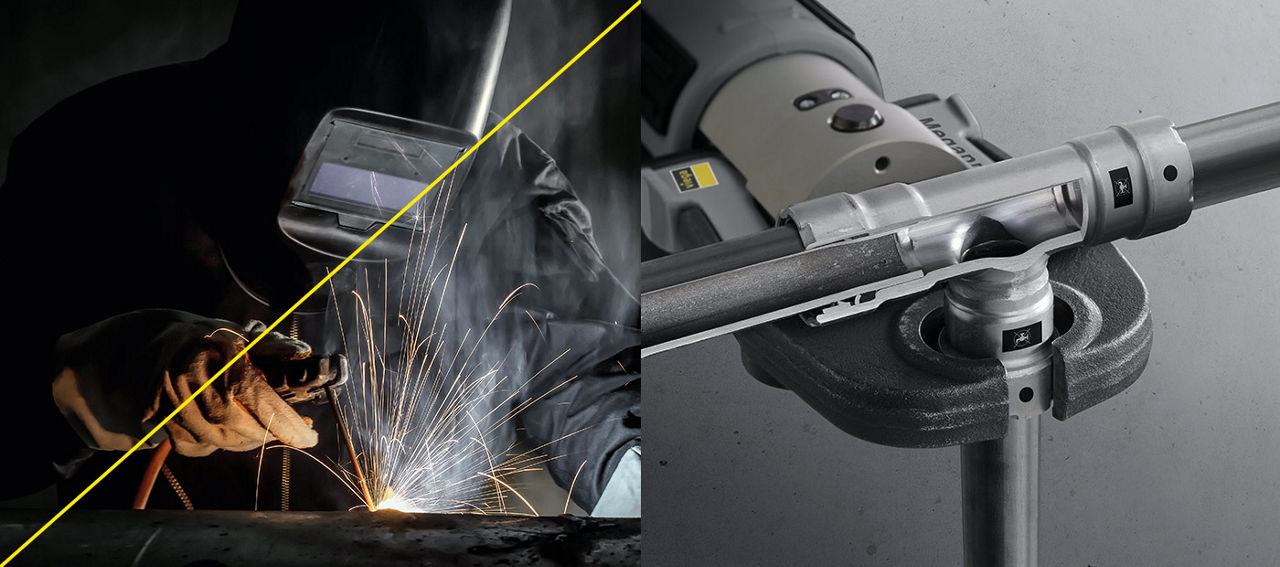 2. No fire protection measures
With cold-press technology from Viega, work can be started immediately, any - where. This not only eliminates the need for the usual fire protection measures, cooling times and fire watches, but also means that large areas of production fa - cilities and storage rooms no longer need to be protected from dirt and cleaned af - terwards. Even in large production build - ings and warehouses, this means that work can be started straight away, with - out hours – or even days – of installation preparation and follow-up.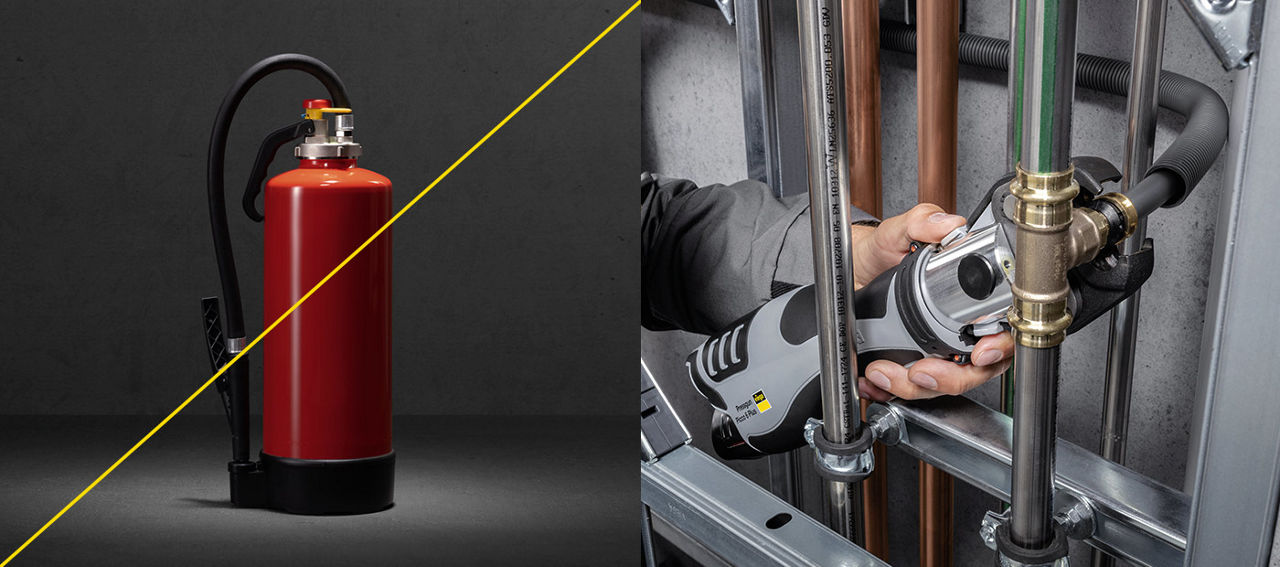 3. Less baggage and fewer breaks
Welding requires heavy equipment. Car - rying heavy gas cylinders and welding apparatus is a back-breaking job, espe - cially if the connection is in an elevated or hard-to-access location. When pressing, all that is required to complete the work is a handy press machine. This saves space and is much lighter. Crucially, welding and soldering are strenuous tasks that always require plenty of breaks. This is not the case with Viega press technology, which lets you keep working at pace.