Viega system solutions for heating and cooling water
Temperatures and aggregate states may change. System properties should not.
Whether heating water or cooling system: the decisive factor is the quality of the entire piping system
Challenges in industrial applications
The uses of water to transmit energy in processes are just as varied as the many types of industrial production. Whether liquid for cooling or low-pressure steam for heating processes, all aggregate states have one thing in common – and that is the fact that this is precisely where the quality of the entire piping system matters, so that neither deposits nor corrosion or strong temperature fluctuations jeopardise the success of production processes.
Your partner for industrial applications
As a global market leader in the installation industry, we see it as our duty to respond to the questions of tomorrow by developing innovative solutions. As we do this, we also benefit from the experience of over 120 years of company success. We're creating a partnership on an equal footing and together with you we are installing the lifelines for the industry buildings of tomorrow.
Viega advantages

Focus on industrial customers

Globally accessible resources

Partnership on an equal footing

120 years of solutions expertise

Viega press systems: up to 80% faster        

Superior technology pro time savings and anti production downtimes


In industrial systems engineering, safe, fast and easy-to-use processes are favourable to ensure that production can be ramped up as quickly as possible. However, many pipelines are still installed using conventional connecting techniques, such as welding. And this is still the case despite the fact that cold-press technology from Viega offers numerous advantages – it is cleaner, more efficient and safer in every respect. It also minimises the challenges posed by shortages of skilled workers and production downtimes.
Solutions for heating and cooling water
Flexible and safe
When installing cooling and heating systems, there are a number of things to take into consideration, regardless of whether this is a new installation or extensive renovation work. Viega piping systems can be used in heating, cooling and industrial systems.
Substantial planning: cooling lines in industrial applications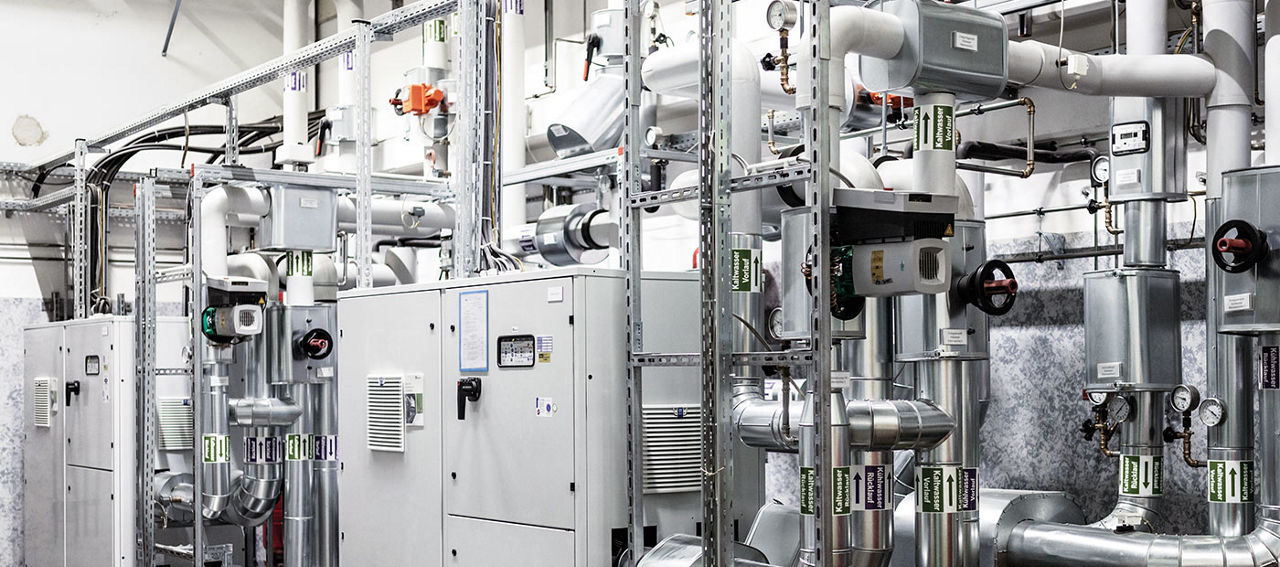 When it comes to cooling processes, large dimensions are required in industrial applications in order to be able to transport the required cooling capacity. The Viega XL pipe dimensions satisfy these requirements while making it possible to completely dispense with welding processes, even for large cooling systems. In addition to stainless steel, conventional thick-walled steel pipes are often used. Corrosion protection is particularly important with steel pipes. The high temperature gradient between the medium conveyed and the surrounding air in the room quickly results in water condensing, which increases the risk of corrosion.
To avoid this, in most cases industrially painted steel pipes with a coating pursuant to AGI Worksheet Q 151 are used in cooling systems. If the installation is joined by welding, this coating first needs to be removed from the pipe and then has to be laboriously re-applied after welding. This is not the case with Viega Megapress. These press connectors can be quickly, efficiently and safely pressed directly onto the pipe with its industrial corrosion protection coating.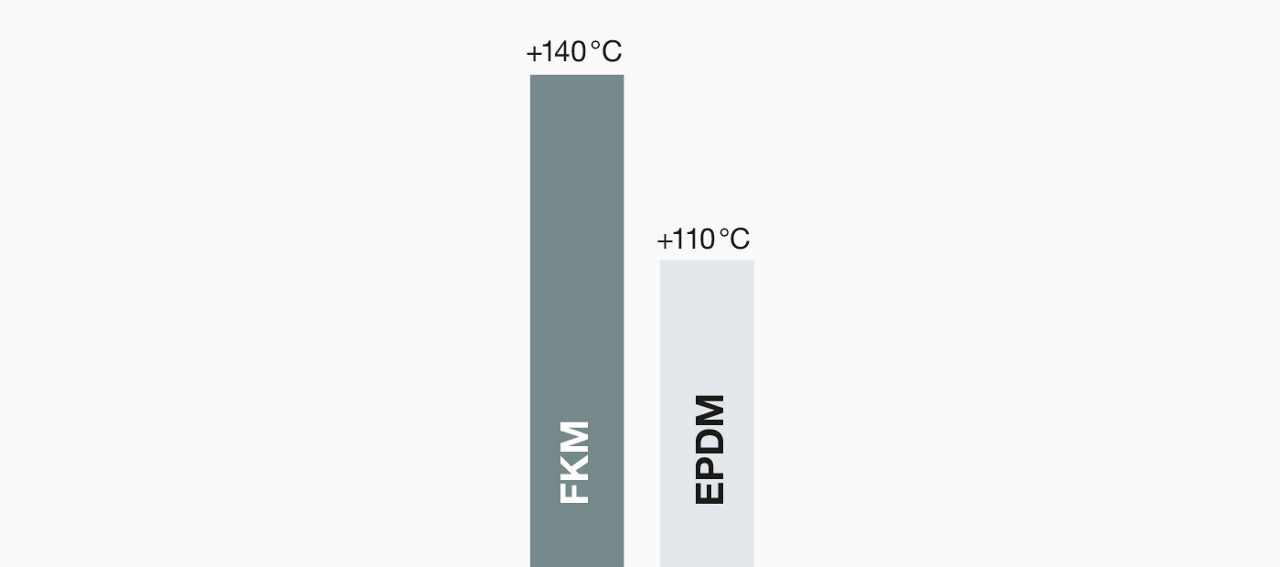 Connect to existing local and district heating networks
With the Megapress S system, it is possible to press thick-walled steel pipes in dimensions from ⅜ to 2 inches in local and district heat systems. The press connectors can be used from the point of entry to the building for primary and secondary circuits with indirect connections, as well as for systems with direct connections. The FKM sealing element used is suitable for operating temperatures up to +140 °C. Megapress S satisfies the requirements of AGFW Worksheet FW 524. Numerous tests by independent laboratories as well as a test report from the North Rhine Westphalia Material Testing Department (Materialprüfungsamt NRW) in Dortmund confirm its suitability for district heat systems in accordance with AGFW FW 524.
High demands: pipelines for thermal energy
Temperature resistance is also a crucial factor during operation. Viega press connectors are designed precisely for this purpose and can withstand temperatures of up to +140 °C with the appropriate sealing elements.
Mastering the balancing act between hot and cold: Viega press connectors
Thanks to FKM sealing elements, Viega press connectors can be used in applications with operating temperatures of up to +140 °C.
With EPDM sealing elements, even applications with temperatures as low as –25 °C can be covered.
Learn more about our products
List of media

Viega press connection technology with the diverse systems and areas of use has proven its value in various installations over many years of application.
Viega industrial brochure

The requirements for media-carrying piping systems in industry have increased continuously over the course of time. You can find all requirements and applications at a glance in our brochure.