Viega system solutions for extinguishing water
Always essential: reliable protection for people and property.
Viega fire protection solutions: time-saving, quick and individual
Challenges in industrial applications
Reliable fire protection not only needs to be safe when used, but also during installation. With piping systems from Viega, thanks to cold-press technology without welding, safe fire protection solutions can be realised in dimensions up to DN 100. These quick systems save you time and allow for customised designs thanks to the extensive product range.
Your partner for industrial applications
As a global market leader in the installation industry, we see it as our duty to respond to the questions of tomorrow by developing innovative solutions. As we do this, we also benefit from the experience of over 120 years of company success. We're creating a partnership on an equal footing and together with you we are installing the lifelines for the industry buildings of tomorrow.
Viega advantages

Focus on industrial customers

Globally accessible resources

Partnership on an equal footing

120 years of solutions expertise

Viega press systems: up to 80% faster        

Superior technology pro time savings and anti production downtimes


In industrial systems engineering, safe, fast and easy-to-use processes are favourable to ensure that production can be ramped up as quickly as possible. However, many pipelines are still installed using conventional connecting techniques, such as welding. And this is still the case despite the fact that cold-press technology from Viega offers numerous advantages – it is cleaner, more efficient and safer in every respect. It also minimises the challenges posed by shortages of skilled workers and production downtimes.
Solutions for extinguishing water
Fit for any application, including zero clearances

When planning production areas, building fire protection is becoming increasingly important. With Viega, planners can be prepared for this. If, for example, mixed installations with branches to floors or other storeys are to be fitted, this can be done with Viega, even without special permits. Thanks to numerous general building inspectorate test certificates, supply lines can be installed right next to one another, making them particularly space-saving.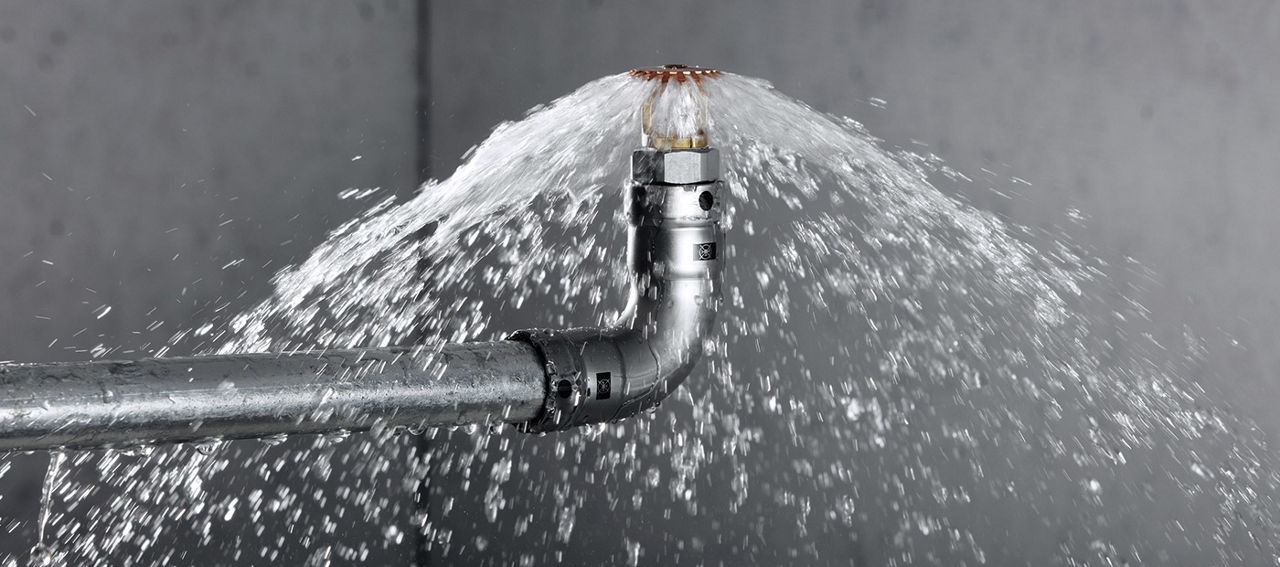 Viega press connector systems: the first choice for extinguishing water systems
The Viega piping systems combine a robust, safe and durably stable alternative to threaded and roll groove technology, large dimensions for sufficient extinguishing water capacity, and quick installation. This makes them perfect for planning and installing fire extinguishing systems and sprinkler units.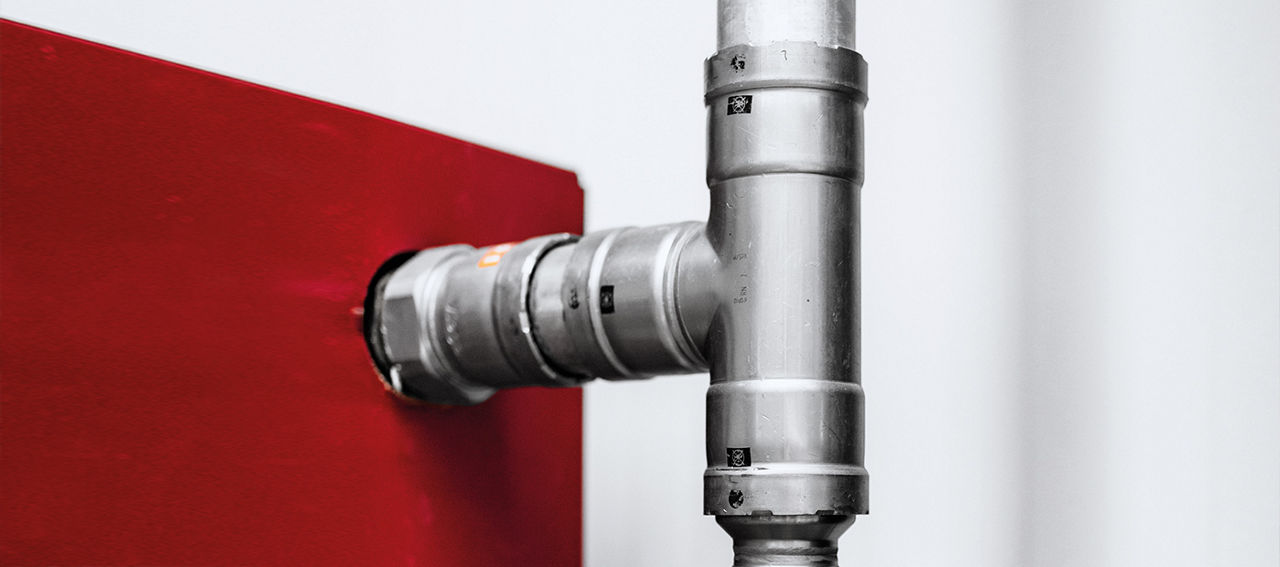 Perfect for upcoming conversion works affecting fire extinguishing systems and wall hydrants
For fire extinguishing systems with a direct connection to the potable water installation, DIN 1988-600 stipulates that potable water and fire extinguishing systems must be separated. Systems that are connected to the potable water supply system without suitable extinguishing water transfer points are a risk to potable water hygiene and will need to be converted. With Viega press systems, conversions can be carried out particularly easily as all the necessary components can be quickly installed.
Viega Megapress: for use at the highest hazard classifications 
Sprinkler units are classified as stationary, automatically triggered fire extinguishing systems, meaning that they are subject to particular requirements by certification bodies. Relying on Viega systems Megapress and Megapress S allows you to rest assured that all legal requirements are met. In pipe dimensions to 4 inches, Megapress is certified pursuant to VdS CEA 4001 for fire hazard classes LH and OH. The highest fire hazard classes HHP and HHS (production and storage risks) are also covered. This means that the system meets all the requirements for use in an industrial sprinkler unit.
Learn more about our products
List of media

Viega press connection technology with the diverse systems and areas of use has proven its value in various installations over many years of application.
Viega industrial brochure

The requirements for media-carrying piping systems in industry have increased continuously over the course of time. You can find all requirements and applications at a glance in our brochure.