Flush plates: from emotional to rational; from purist to extravagant
Viega offers the right flush plates for any bathroom environment. The range of materials extends from veneered wood finishes, through brushed stainless steel, to glass and high-grade plastic in a wide variety of colours. You can choose from a range of 50 standard design variants in total.
But good design does not always have to stand out in order to shine. That is demonstrated by the flush-to-tile plates of the Visign for More and Visign for Style ranges. They are totally flush to the wall, because their installation frames can be effortlessly adapted to different tile thicknesses.
In fact, how the flush plates are installed in no way impedes their design flair. Because all the flush plates are compatible with the Viega cistern. So the design your trade professional installs for you is all about your taste, and not subject to technical considerations.
The flush plates already won several awards for their design. The Visign for More 202, Visign for More 204 and Visign for Style 23 each received the prestigious German Design Award 2020. In addition, the Visign for More 200 was awarded with the "Design Plus powered by ISH" award and the Visign for More 201 the "Red Dot Design Award" and the "Innovation Prize Architektur+ Technik".
Fitting sets for bathtubs and shower trays: timeless eye-catchers
A shower tray or bathtub is usually the focal point of a bathroom design. Whichever of the two elements you choose for your bathroom, Viega offers fitting sets which will make them a real eye-catcher.
The Viega shower tray sets – Tempoflex drains for shallow trays and Domoplex fittings for tall trays – meet the highest design demands. The models are high-performance products, finished to a high standard of workmanship, and multi-award-winning in design.
The fitting sets for bathtubs (Multiplex and Multiplex Trio, and Rotaplex and Rotaplex Trio) are equally impressive. Thanks to their low installation height, they are also barely noticeable in the tub. With its ultra-slim Multiplex Trio MT5 and Rotaplex Trio RT5 designer fittings, Viega also offers the perfect solutions for very narrow bathtubs. Because bathroom design, in particular, is often also about keeping things compact.
Other highlights are the Multiplex Trio F and Rotaplex Trio F bathtub sets featuring the innovative bottom filling system: Starting with a star-shaped jet pattern, they fill the tub virtually silently from the bottom up.

Shower channels, wall and floor drains: discreet and flexible
The Viega shower channel range (including the Advantix, Advantix Cleviva and Advantix Vario models) impresses with high-grade materials and modern, slimmed-down design. It also provides you with great flexibility in your bathroom design.
The Advantix Cleviva shower channel featuring surface-guided single-point drainage, for example, offers two interchangeable design inlays in the shower channel profile. For its reduced and high-quality design, the shower channel was awarded with the prestigious German Design Award 2020.
The Advantix shower channel and the Advantix Vario, which is available as a shower channel and wall drain, have won multiple awards for their design. The special feature of the Vario is that it offers you a variety of different design options. Because the Vario can be installed in or on the wall, or free-standing – optionally straight, L-shaped or U-shaped. Whatever suits your bathroom best. Alongside stainless steel variants in matt and gloss finishes, there are also black and white variants.

The bath drain grates also meet different tastes. They are round, square or triangular, and made of solid stainless steel, giving them a stylish appearance and making them very robust. The round grates are mainly suitable for bathrooms with curved contours. The square grates, on the other hand, are designed for bathrooms with a more linear styling, and can be optimally integrated into tiled floors.

MuroLive! cladding panels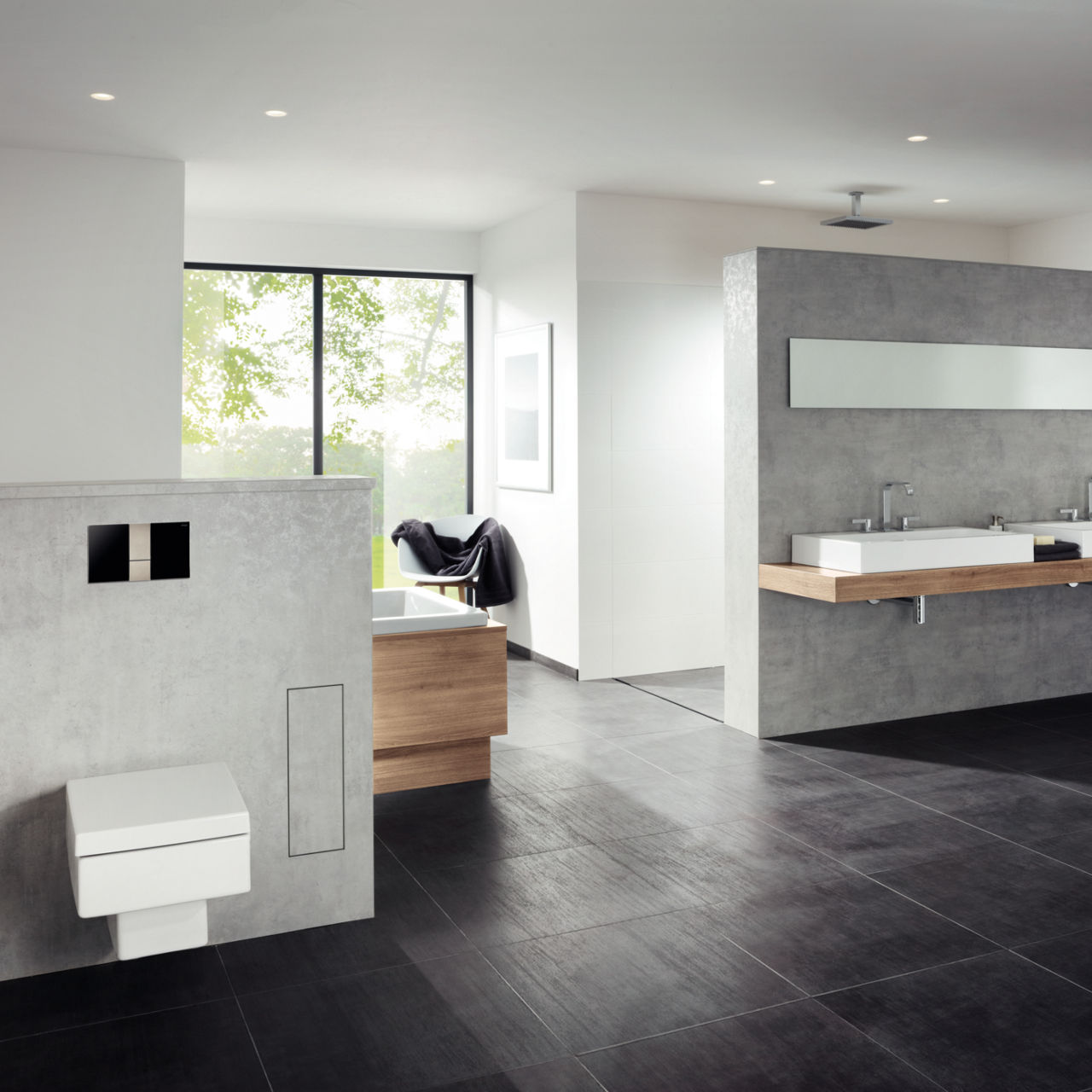 MuroLive! multi-layer composite panels from Murodesign are a particularly elegant way to clad Viega pre-wall systems. The choice of surface finishes and decorative styles is wide. So with the right Viega pre-wall system and MuroLive! cladding panels you can create designer bathrooms perfectly matching your own personal taste.
The lightweight plastic panels are barely distinguishable from materials such as wood or stone. The high-grade decorative styles are optimally matched to the original material. The exclusive finish is extremely robust and durable. MuroLive! is water-, scratch- and impact-resistant. And the panels are very easy to clean.
Go to composite panels