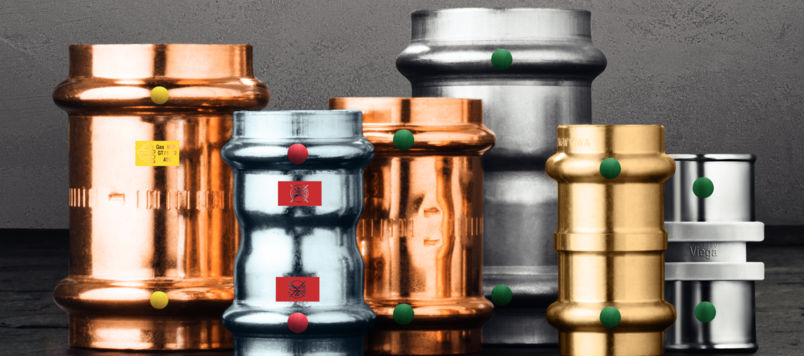 Viega offers a comprehensive range of products that are all coordinated with each other. That applies both to the system as well as to the materials used. Planners and installers will find the optimum system for every construction situation and water quality: durable in use, hygienic in operation and particularly quick to install thanks to the press connection technology.
The surfaces of products, that will come into contact with water later on, are not moistened with water during their quality control tests. This is the only way to prevent microbiological contamination caused by the production process.
Viega only uses materials suitable for use with drinking water such as stainless steel, copper and copper alloys. All organic materials for seals and pipes regularly undergo the relevant chemical and microbiological tests.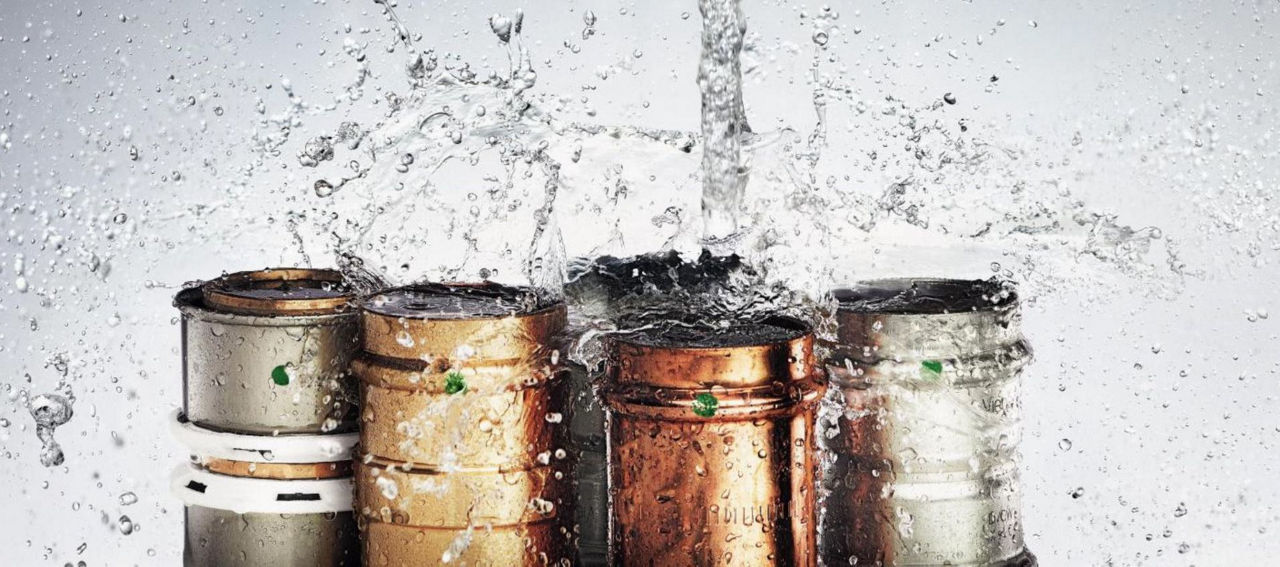 Innovative product design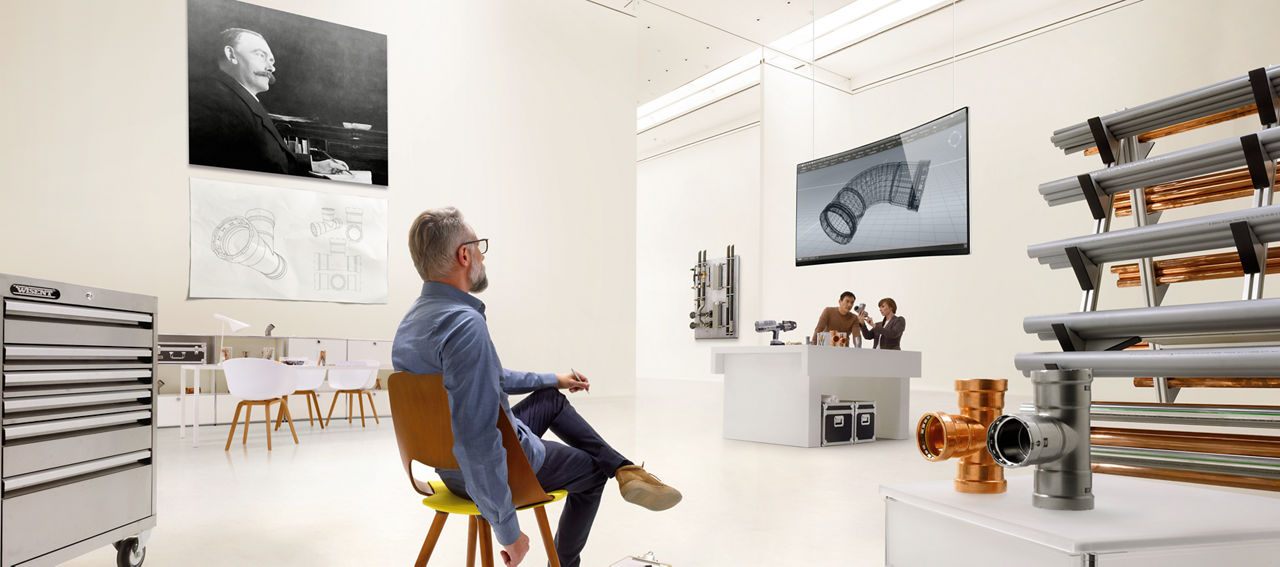 Viega press connectors made of copper, gunmetal and stainless steel cause much less flow resistance than other types of plastic or press brass connectors that are available on the market. When using plastic connectors, a solid core is required for all subsequent cavities, which is then extracted again after production. Brass connectors are simply bored at a right angle – quite the opposite of the flow-enhancing water flow conditions from Viega.
Planning, installation, commissioning
In our practical seminars, you will find out all there is to known about the latest standards and regulations, the right material selection, pipework, commissioning and operation of drinking water installations. Please contact your local Viega office for more information on seminars.
In the download area, you will find more information, for example, the practical manual, protocols and trade articles, on the subject of drinking water installations and hygiene. Viega planners and consultants are always available to provide you with professional information and personal support during your planning procedure.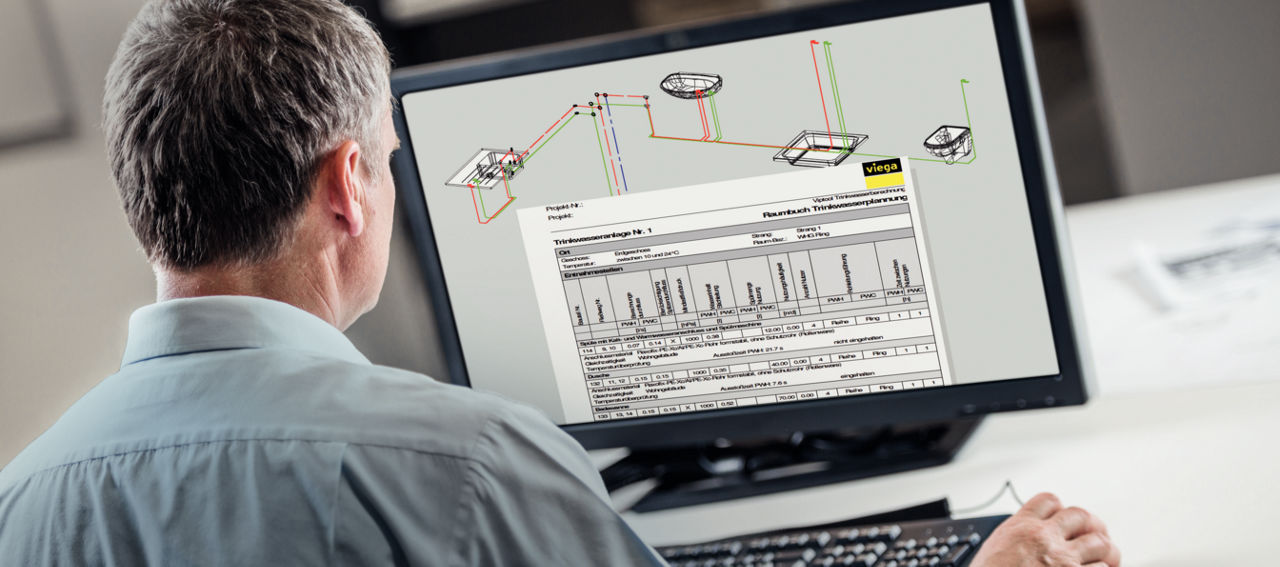 Pipe materials for all applications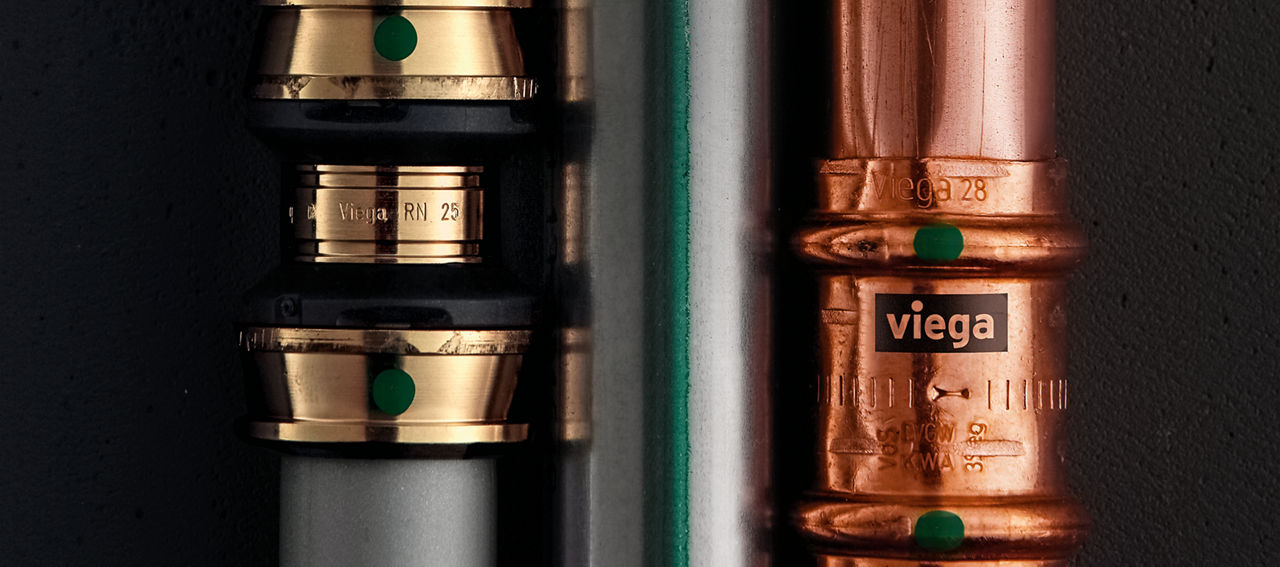 Stainless steel (Sanpress Inox) is particularly suitable in installations where potable water is involved and also in mixed installations.
Copper (Profipress), on the other hand, is a reliable all-rounder, usable under many different circumstances. Much the same can be said for gunmetal (Sanpress). It can be used safely for potable water installations, while at the same time this material is very durable and can stand up to the toughest conditions. Other materials such as zinc-nickel plated steel or C steel come into their own where cost-effectiveness and extreme wearing strength are required.
Finally, plastic (Raxofix) has an almost unlimited range of uses. High-performance polymers provide great flexibility and cost-effectiveness in piping systems, as well as being high-quality, innovative materials in drainage technology.
Series pipelines and ring systems
Series pipelines and ring systems are the first important step to significantly reduce the risk of stagnation. Every time a draw-off point is used, there is a complete flow-through of the upstream pipeline and the entire content of the pipeline is exchanged. This effect is supported by the placement of a frequently used main consumer at the end of a series pipeline or in the middle of the ring system.
Serial pipe systems are the system of choice, so that pipes with seldom used extraction points, such as frost-proof external fittings are not a danger for the rest of the installation. By doing this, the extraction points are connected using wall plates with two outlets and with a regularly-used end extraction point, e.g. a WC system (possibly combined with a flushing system).
A ring pipe system is useful if, due to increased hygiene requirements, a serial pipe system is out of the question, e.g. because there is no main extraction point. In this way, multiple users can be looped in – even those in other rooms. If water is used in one of the rooms, water flows from both sides and flushes through the unused extraction point.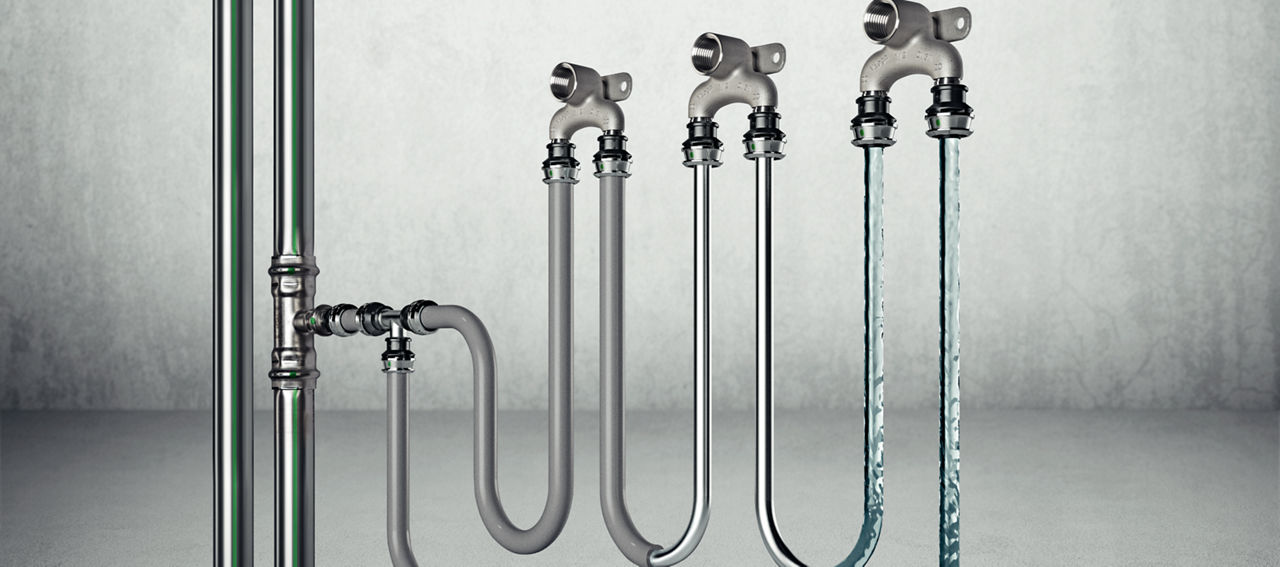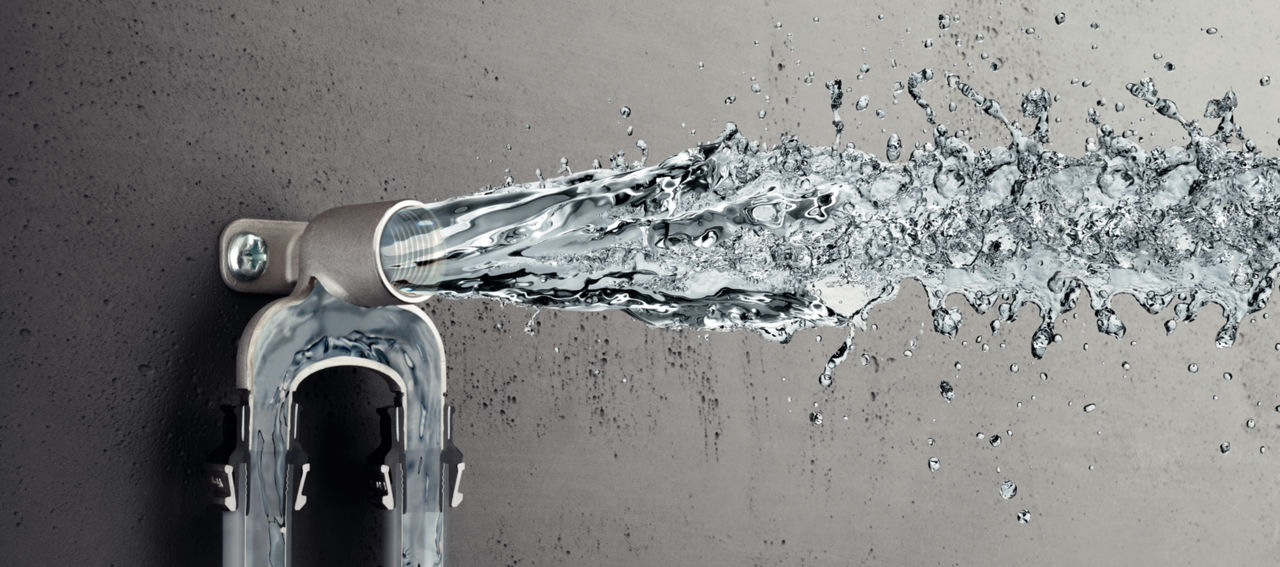 In the field of potable water supply systems, the use of smaller piping systems in combination with flow-enhancing components is extremely advantageous both in terms of hygiene and cost-effectiveness. On the one hand, you can prevent an increased use of material and on the other; you reduce the amount of water in the pipes.
To prevent over-dimensioning, the exact calculation of the actual amount of water extracted and the synchronisms of the particular building are necessary. Using the values which can vary within a certain bandwidth, e.g. the flow rate in respect to real pressure losses, the dimensions in the network pipe can be considerably reduced. By using low pressure loss shut-off valves, e.g. ball valves, extra pressure potential can be used.
For reasons of hygiene, it is recommended that leakage tests are carried out dry in large buildings. Dry, oil-free air is used or in systems with higher hygienic requirements (e.g. hospitals) inert gases may be used. The relevant safety regulations should be observed. Dry leak testing is carried out before load testing at a test pressure of 110 mbar.
The test period lasts at least 30 minutes at up to 100 litres of piping system capacity and has to be increased by 10 minutes for every additional 100 litres. During this test non-pressed press connectors can be identified. The Viega SC-Contur, which can be found on every Viega press connector, guarantees the identification of non-pressed connections throughout the entire pressure range from 22 mbar to 3 bar.